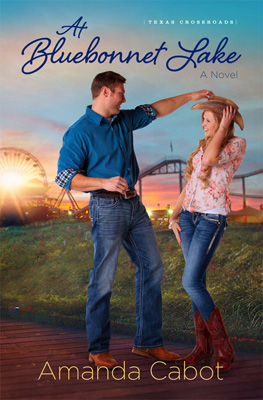 Revell Books
ISBN 978-08007-3434-3

At Bluebonnet Lake:
The Story Behind the Story
It was supposed to be the perfect vacation -- five days of relaxation at a family-oriented resort in New York's beautiful Adirondack Mountains. Located on one of the picturesque lakes that dot the region, the resort featured a variety of sports, charming cabins and superb food -- or so the brochure claimed.

Reality was somewhat different. The setting was gorgeous, and there were indeed opportunities for sports, so long as you didn't mind bailing water from the paddleboats while you made your way around the lake. The cabins were charming, if you could overlook the fact that the roof leaked and that the electricity went out just when you most needed it. As for the cuisine, the best I can say is that the food was edible.

A perfect vacation? Not quite. And yet, I'm not complaining, because the experience had me asking myself questions like, "What happened to turn this from a 5-star to a no-star place? Who were the owners, and why did they let it become so rundown? Was there any way to save it?"

I knew there was nothing I could do about that particular place, but the questions led me to create my own fictional rundown resort, one that I could give a happy ending. At Bluebonnet Spring is the result.