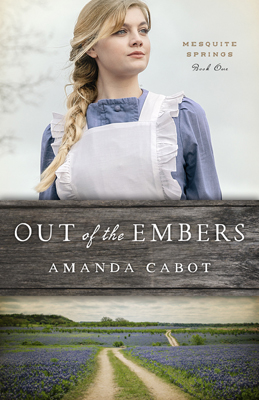 Revell Books
ISBN 978-08007-3535-7

Out of the Embers: The Story Behind the Story

Every time I begin a new series, I ask myself a number of questions, beginning with when and where it will take place. Thanks to my readers' preferences, the "where" was fairly simple: the Texas Hill Country. (It doesn't hurt that I love that particular part of the Lone Star State.)

The "when" was more of a challenge. Because I wanted there to be no doubt that the Mesquite Springs series was different from the Cimarron Creek books, I decided to use a different timeframe and settled on what some historians call the "golden age" of Texas history: the time between statehood and the Civil War, or as some Texans would have called it, the War of Northern Agression.

The biggest challenge was deciding why my heroine wants to move to Mesquite Springs. It turns out, she doesn't want to move there. She has no choice.

Once I knew that, the rest of the story fell into place, and before I knew it, I had enough ideas for three books. The Mesquite Springs trilogy was born.