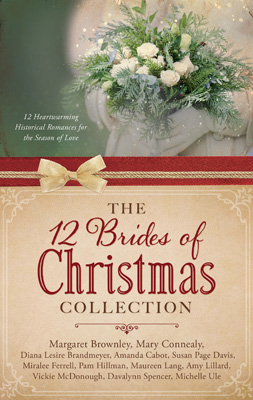 Barbour Books
ISBN 978-1-6305-8489-4

The Christmas Star Bride:
The Story Behind the Story

"Write me a happy ending."

I stared at my friend, astonished by her request. You see, Sherry's husband had just lost his battle with cancer, leaving her a widow with two small children. Because I lived in another state and couldn't arrange time off from my day job, I'd been unable to attend the funeral, but here I was a few days afterward, sitting in Sherry's kitchen asking her what I could do to help. To say that her response startled me is a major understatement.

"You're a writer," she explained. "More than that, you're a romance writer. You give your characters happy endings. That's what I want. A happily-ever-after."

It's true that I create HEAs, which is author speak for happily-ever-afters, for my characters. But until that point, my heroines had been similar to most other authors' -- fairly young, never before married, finding love for the first time. What Sherry wanted was something different. She wanted a story with a more mature heroine, one who'd experienced deep sorrow. She wanted a story to help her believe that second chances at happiness were possible.

The more I thought about it, the more I realized that Sherry was right. Traditional romances filled a need, but women like Sherry had another need. They needed the reassurance that second chances were possible, that God would give them an HEA. And so when my agent told me Barbour was looking for Christmas novellas, I knew my heroine would be an older woman who'd lost her love and who despaired of ever finding her HEA.

I don't want to mislead you. Esther's story is not Sherry's. For one thing, it's an historical, set in my adopted hometown of Cheyenne in 1880, not in modern day New York State. Esther is not a widow but rather a woman whose fiance was killed during the Civil War. Since then, Esther has devoted herself to raising her niece, believing Susan is the closest she'll ever come to having a child. Those are the differences. The similarity is that, like Sherry's story, The Christmas Star Bride is a story of second chances, a story of two wounded people brought together at what I call the season of miracles, a story of God's infinite love for His children.

As for Sherry, she didn't need me to write her HEA. God brought a second wonderful man into her life. They're now happily married with a child of their own.