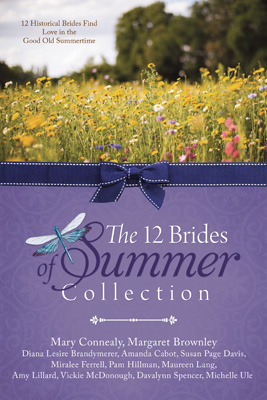 Barbour Books
978-1-6340-9029-2
The 12 Brides of Summer -- Out of Print

ECPA Bestseller



Unfortunately, it happens -- sometimes a publisher decides to declare a book out of print. That's what has happened to The 12 Brides of Summer. The e-book versions are no longer available anywhere, but I've left links for the print versions, since there are a few new copies and some used ones for sale at the major online retailers. And, in case you're interested, I've kept the description of both the whole collection and my novella here so you can learn a little more about the book that captured so many readers' hearts.

Readers loved The 12 Brides of Christmas so much that it was on the bestseller list for three months, but that was only the beginning. With The 12 Brides of Summer you have the chance to meet twelve adventurous Victorian era women -- a beekeeper who is afraid of bees, a music teacher whose dog has dug up a treasure, a baker who enters a faux courtship, and nine more -- along with the men they encounter while making summertime memories. Will these loves sown during summer be strengthened by faith and able to endure a lifetime?

I'm delighted to have the second of my Cheyenne novellas, The Fourth of July Bride, as part of this collection. Those of you who wondered what happened to Esther and Jeremy after The Christmas Star Bride ended will find the answers here, along with a whole new romance. And if you've read my Westward Winds series, you might spot a few of your favorite characters from those books too.

Here's a bit more information about The Fourth of July Bride.
Esther's bakery, which was the scene for her own happily-ever-after in The Christmas Star Bride, brings another couple together. While cattle baron Gideon Carlisle is having his portrait painted by Esther's new husband, he enjoys cakes and conversation with her assistant, the lovely Naomi Towson. Unfortunately, Naomi and Gideon both have problems. But then Gideon proposes a solution. He'll pay for the surgery Naomi's mother needs if she'll enter into a faux courtship with him while his mother visits Cheyenne over the Fourth of July. It's a business arrangement, nothing more. At least that's the way it starts.