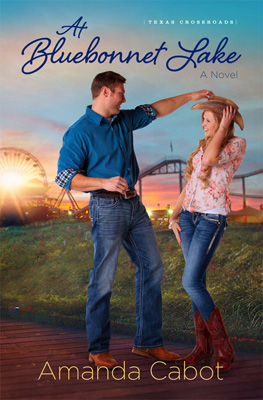 Revell Books
ISBN 978-08007-3434-3

At Bluebonnet Lake Reviews
Every author loves it when her books garner praise, and so I'm delighted to share the following with you.

Multiple character voices blend harmoniously into a joyous song of love. Uplifting and inspiring, the story speaks to the way nostalgia wisely finds a place in the modern world. Drawing readers into the lives of her characters, Cabot engages and entertains in equal measure.
*Starred Review* Publishers Weekly

One delightful read, Cabot's latest is a charming story with two very likable characters at the heart of it. Modern, engaging storytelling, a sweet romance and colorful secondary characters are the highlights of this story. Readers will enjoy Kate and Greg's journey as they discover and learn to trust in the plans God has for their lives.
**** (Compelling, A Page-Turner)

Melanie Bates for RT BOOKReviews

Amanda Cabot does a fabulous job of building a setting and then deepening it alongside her characters. Rainbow's End has its own -- albeit stuttering -- heartbeat, and as a vision for its future bleeds into a few guests' hearts, it pulses more than one couple toward a life-redefining love. This is an enjoyably clean weekend romance that might just make you consider the Texas Hill Country for your next romantic getaway!

Serena Chase for USA Today's Happily Ever After

Cabot combines high-dollar glitz, a down-to-earth community, and two love stories -- young love between Kate and Greg and a second chance at love for Sally and Roy -- in this appealing contemporary Christian romance.

Diana Tixier Herald for Booklist

Well-drawn and likable characters pervade this enjoyable contemporary romance. Readers will probably guess the ending, but getting there is half the fun. This promising series opener by Cabot will appeal to fans of Lori Copeland and Lauraine Snelling.

Margaret Bentley for Library Journal