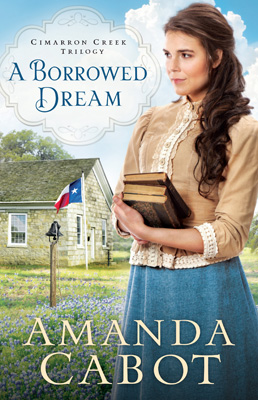 Revell Books
ISBN 978-0800727574

A Borrowed Dream Reviews
Every author loves it when her books garner praise, and so I'm delighted to share the following with you.


The second book in Cabot's Cimarron Creek trilogy is even better than the first, with a dash of suspense, an intriguing bit of medical history and a host of enjoyable characters. Lydia's best friend, Catherine, proves to be a layered heroine with an emotional backstory and a puzzling dream. The people she collects as the story progresses -- Austin, Hannah, Seth and Grace -- are equally dimensional and will take up residence in readers' hearts right alongside Catherine, Lydia and Travis. While Cabot has penned a sweet story with swoony kisses, there are also a couple of heartwrenching subplots that elevate the novel beyond "just" a romance.
**** (Compelling, A Page-Turner)

Carrie Townsend for RT BookReviews
Cabot's sweet love story will appeal to readers of gentle romances... Although this title stands on its own, readers of A Stolen Heart (2017), the first in Cabot's place-based trilogy, will be happy to revisit the folks of Cimarron Creek.

Diana Tixier Herald for Booklist
Another deftly crafted gem of a novel by a true master of the romance genre, Amanda Cabot's Borrowed Dream is very highly recommended for community library collections.

Midwest Book Reviews
Cabot's story is sweet and endearing. ... Getting to the inevitable happy ending is just plain fun ... It's romantic, dramatic, emotional, and filled with great insight about life, love, and never giving up on your passion.

Cowgirl Magazine
A keeper! Full of unexpected twists and turns, heart stopping plot, and a message of sweet love.

Sabrina Wade for Interviews and Reviews
This novel has intrigue, drama, and suspense amid romance, overcoming fear, and unforgiveness. Christian inspirational romance fiction fans will enjoy.

Nancy Kanafani for Christian Market
This is a love story with hints of suspense and a theme of God working all things for good.

Linda Sprague for The Lamplighter