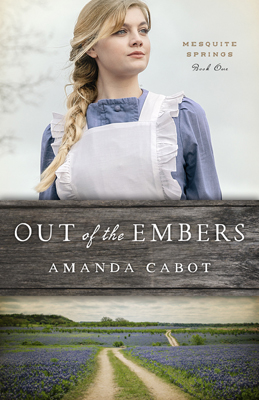 Revell Books
ISBN 978-08007-3535-7

Out of the Embers Reviews
Every author loves it when her books garner praise, and so I'm delighted to share the following with you.


With a special blending of mystery and romance, Out of the Embers is an extraordinarily entertaining read that is embedded with many an unexpected twist and turn.
Midwest Book Review
Cabot expertly combines suspense with a pleasant romance to create a moving and uplifting tale.
Booklist
The series is off to a strong start.
Publishers Weekly
Cabot is an engaging writer whose story lines are fresh and unfailingly satisfying. A sure bet author.

Christian Fiction Advisor
Out of the Embers is part prairie romance, part romantic suspense. I can't remember when I've enjoyed a book more. Amanda Cabot has written an intriguing, chilling mystery, and she winds it through the pages of a sweet romance in a way that made me keep turning the pages fast to see what was going to happen next. An absolutely excellent read.

Mary Connealy, best selling author of Aiming for Love
Welcome to Mesquite Springs, Texas - a hotbed of drama, danger, and romance ... and heroine Evelyn Radcliffe lands right in the middle of it thanks to a series of mishaps. Good thing hero Wyatt Clark looks out for her. With characters that will steal your heart (especially little orphan Polly), Out of the Embers is sure to earn a spot on your keeper shelf. A must read for historical romance fans.

Michelle Griep, Christy award-winning author of the Once Upon a Dickens Christmas series
Are you a fan of videos? If so, you might enjoy this one with excerpts from some reviews.