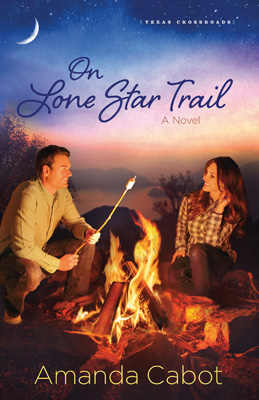 Revell Books
ISBN 978-08007-3433-6

On Lone Star Trail Reviews
Every author loves it when her books garner praise, and so I'm delighted to share the following with you.


Cabot combines the modern and the spiritual in a romance that is sure to warm readers' hearts. The Texas Hill Country makes a charming setting for TJ and Gillian, who are two genuinely vulnerable, wounded characters who find unexpected love. Distinctive secondary characters set within an engaging plot make Cabot's latest a delightful read.
**** (Compelling, A Page-Turner)

Melanie Bates for RT BOOKReviews
A sweet story about two people moving on from broken pasts, this is a great romance that will lift hearts.

Amy Phelps for The Parkersburg News and Sentinel
Amanda Cabot weaves a Christian love story filled with fascinating subplots as the two main characters learn to rely on their faith in helping those they meet at the Rainbow's End Resort. The entire series is recommended for Christian women's book discussion groups.

Mary Lou Henneman for Congregational Libraries Today