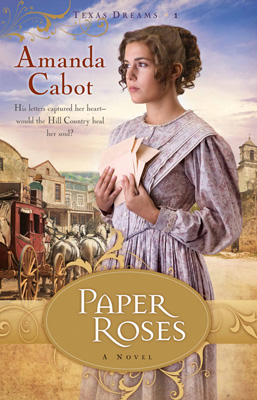 Revell Books
ISBN 978-08007-3324-7

Paper Roses Reviews
Every author loves it when her books garner praise, and so I'm delighted to share the following with you.

Lovers of westerns and historical romance will adore Paper Roses. Cabot crafts a tale of God's sovereign grace with emotion and skill. I carried this book with me into every room of the house until I was finished, unwilling to leave it until I'd flipped that last page and let out a happy sigh. I can't wait to get my hands on the second two books in the Texas Dreams Trilogy.
Roseanna White for Christian Review of Books
Memorable characters and beautiful prose make this an unforgettable work of Christian fiction.
Libraries ALIVE
The first Texas Dreams tale is an excellent western romance with an amateur sleuth whodunit investigation serving as a minor but powerful support. Fans will enjoy this fine pre-Civil War Hill Country historical.
Harriet Klausner for Genre Go Round Reviews
Cabot kicks off a new historical series and works the faith message in throughout the story. The characters are loveable and believable. Not only does the novel offer a sweet love story, there's a mystery woven into the background.
**** (Compelling, A Page-Turner)
Patsy Glans for RT BOOKReviews
Paper Roses has all the ingredients of a traditional historical romance with a little suspense mixed in for good measure. It is a delightful start to Amanda's Texas Dreams series and will satisfy the longings of many readers looking for new authors in this genre.
Relz Reviewz
This is the book that will circulate! It covers all of the emotions: loss, grief, searching and healing -- plus there is a mystery, and unlike some mysteries where the reader knows early on what is going to happen, this one has surprises! Once you begin reading, you will be compelled to finish! And the finish is really a surprise.

Barbara Raupach for The Lamplighter