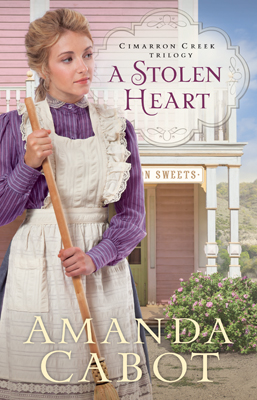 Revell Books
ISBN 978-0800727567

A Stolen Heart Reviews
Every author loves it when her books garner praise, and so I'm delighted to share the following with you.


Cabot, author of historical and contemporary series, begins the Cimarron Creek trilogy with this entertaining novel about a former schoolteacher in the 1880s who must make her own way in a Southern town highly suspicious of Northern carpetbaggers. ... Readers will enjoy the surprising ending as well as the romance always found in Cabot's books. This is a fine addition to Cabot's body of work and a promising start to the series.

Publishers Weekly
Cabot's nonpreachy inspirational romance features characters who genuinely try to live honorable lives, and their story has broad appeal for readers of gentle fiction and historical romance as well as for readers of Christian fiction.

Diana Tixier Herald for Booklist
A story of small town secrets with a historical fiction background, this one will sweep the reader away.

Amy Phelps for The Parkersburg News and Sentinel
Reading this book may cause chocolate cravings in even the most stalwart of souls! Lydia's Cimarron Sweets venture never overwhelms the relationships or the plot, but it adds a -- pardon the pun -- sweet touch to the overall mood of the novel. Lydia is a well-rounded protagonist, flaws and all, and she captures readers' hearts almost at once. Travis makes a delightfully swoon-worthy hero who can be both tough and tender.
**** (Compelling, A Page-Turner)

Carrie Townsend for RT BOOKReviews