Welcome!
Thanks for stopping by. I'm glad you found my home on the Web and hope you'll return occasionally to see what's new.

The big news is that the wait is over. Out of the Embers, the first of the Mesquite Springs trilogy, is now available in print, ebook, hardcover, and audiobook. Large print is coming soon.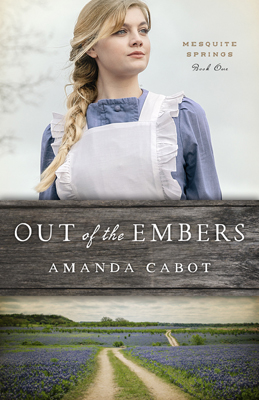 Revell Books
ISBN 978-08007-3535-7

Do you judge a book by its cover? If so, those bluebonnets tell you that it's set in the Texas Hill Country, and Evelyn's apron hints at her profession. I'm not spoiling the story by telling you that she's a fabulous cook who opens a restaurant in Mesquite Springs and that more than one man, including horse rancher Wyatt, is attracted by more than her cooking.

It's been so much fun bringing this new town to life, and though my heart ached over all that Evelyn endured, I was glad that I could give her the happy ending she deserved.

I wasn't simply glad, I was thrilled by the endorsements the book has received. Best-selling author Mary Connealy said, "I can't remember when I've enjoyed a book more," and Christy award-winning author Michelle Griep called it "a must read for historical romance fans."

If you'd like to learn more about Evelyn and Wyatt's story or watch the trailer, here's the link. And, if you'd like to sample the story, here's an excerpt.

I hope I've intrigued you.

I also hope you'll explore the tabs on this page, because they give you more information about me and my books. I've even included hints for aspiring writers. And since I'm also a lecturer, there's a tab with descriptions of my most popular workshops.

One of my greatest pleasures as an author is hearing from readers, so I encourage you to let me know your reaction to my books. If you have questions or comments, or if there's something else you'd like to see on this website, send me an email.

And to be sure you don't miss any of the news, why not sign up for my newsletter?


Let's stay in touch via social media. Here are my links.

Facebook

My blog

Twitter

BookBub
I look forward to hearing from you.