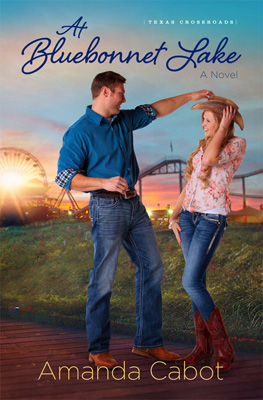 Texas Crossroads #1
Publication Date: 2014
Revell Books
ISBN 978-08007-3434-3

At Bluebonnet Lake
Her life is set to warp speed. His is slowing to a crawl. But love has its own timing.

Multiple character voices blend harmoniously into a joyous song of love. Uplifting and inspiring, the story speaks to the way nostalgia wisely finds a place in the modern world. Drawing readers into the lives of her characters, Cabot engages and entertains in equal measure.
*Starred Review* Publishers Weekly
Available in paperback, ebook, and large print
Want to Know More?
The last thing Kate Sherwood needs is a man, so why is she so drawn to the handsome handyman at the Rainbow's End resort?

Marketing maven Kate Sherwood's world is fast-paced, challenging, and always changing. The last thing she wants to do is slow down to a crawl at Rainbow's End, a dilapidated resort in the Texas Hill Country. But she cannot deny her ailing grandmother's request to visit the place where she and her deceased husband spent one glorious week (albeit fifty years ago). There Kate meets Greg Vange, the resort's handyman. But there's more to Greg than meets the eye - billions more, in fact, as he recently sold his successful software company and is at the resort in search of what's next for his life.

Kate didn't come to Rainbow's End looking for romance, but she can't deny the sparks of attraction that fly every time she and Greg are together. She even starts to see potential in the rundown resort. Could there be a future there? Or will Kate's long-sought promotion take her back to the big city?

Amanda Cabot invites you to step into a place away from the pressures of the day. You might be surprised by what you find at Rainbow's End.


Don't Miss These