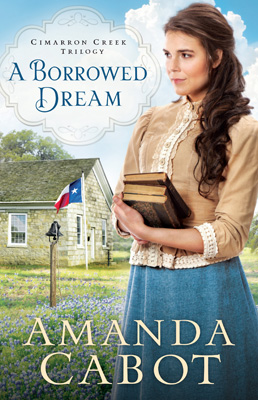 Revell Books
ISBN 978-0800727574

A Borrowed Dream -- Available Now
Best Romance of 2018 (Tie) - Lone Star Lit's Bloggers Choice
Winner 2019 Best Series - Lone Star Lit Bloggers' Choice

Winner Interviews & Reviews Book of the Month


Catherine Whitfield is sure that she will never again be able to trust anyone in the medical profession after the local doctor's excessive bleeding treatments killed her mother. Despite her loneliness and her broken heart, she carries bravely on as Cimarron Creek's dutiful schoolteacher, resigned to a life without love or family, a life where dreams rarely come true.

Austin Goddard is a newcomer to Cimarron Creek. Posing as a rancher, he fled to Texas to protect his daughter from a dangerous criminal. He's managed to keep his past as a surgeon a secret. But when Catherine Whitfield captures his heart, he wonders how long he will be able to keep up the charade.

With a deft hand, Amanda Cabot teases out the strands of love, deception, and redemption in this charming tale of dreams deferred and hopes becoming reality.

That's the official back cover copy, which the staff at Revell and I hope will intrigue you enough that you'll open the book and start reading. Back cover copy combined with the cover itself are often readers' introduction to the book, which is why they're both so important.

I was so pleased with the cover that I wrote a blog post about the whole cover design process. Click here for the details.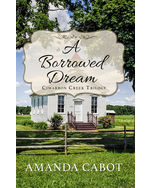 Like most of my books, A Borrowed Dream is available in a large print version. Rest assured that even though the cover is different, the text is the same.

Also, if you enjoy hardcover books, I'm delighted to tell you that A Borrowed Dream is available in a hardcover version with the original cover. This is ideal for libraries and for those of you who like to read books many times.