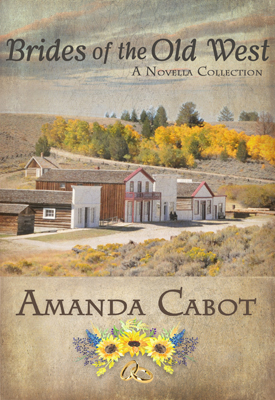 Novella Collection
Publication Date: September 2021
ISBN 979-8-5344-5761-2

Brides of the Old West: A Novella Collection

Four unlikely couples.
Four unexpected chances at happiness.
Four unforgettable stories of love and faith in the Old West.

I loved this collection of sweet, heartwarming stories by gifted author Amanda Cabot! Ms. Cabot provides readers with a rare blend of beautifully described settings and fully-developed characters in stories that touch the heart. Amazon Reader
Available in paperback and ebook exclusively at Amazon
Want to Know More?
The Christmas Star Bride - Can a bakery owner who lost her one true love at Gettysburg twenty years ago and an itinerant artist who lost more than love during the war find a second chance at happiness, or is love only for the young?

The Fourth of July Bride - She needs money to pay for her mother's desperately needed eye surgery. He needs a way to stop his meddling mother from choosing his bride. Can the answer be a temporary courtship?

The Depot Bride - Can a cattle baron's daughter who's practically betrothed to another man and a struggling writer who fears he has nothing to offer her find happiness as they create a commemorative book to celebrate the creation of the new Union Pacific depot in Cheyenne?

The Unmatched Bride - When a confirmed spinster matchmaker accepts an unusual assignment and helps a wealthy widower choose the right mate for his daughter, can more than one couple have a chance at true love?


This book marked two exciting firsts for me.

Number One: It's the first time my four Cheyenne-set novellas are available in a single collection. These stories were previously published in collections with other authors' novellas, so you may have read one or more of them, but some stories are worth rereading. I hope you'll agree that these fit into that category.

Number Two: This is the first time I've participated in every step of the cover creation process. If you'd like to see the steps involved, you might enjoy this blog post. And, of course, I hope you enjoy the stories.