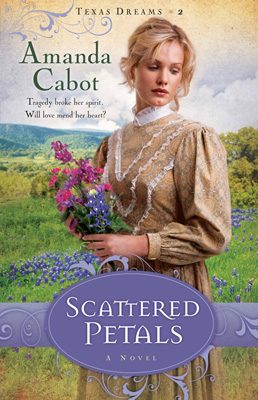 Texas Dreams #2
Publication Date: 2010
Revell Books
ISBN 978-08007-3325-4

Scattered Petals
Finalist - 2011 Booksellers Best Award

Tragedy broke her spirit. Will love mend her heart?

Cabot weaves a powerful story of healing. Her characters are well thought out and readers will understand their frustrations. A wonderful book by a gifted author. RT BOOKReviews

Scattered Petals was thoroughly engaging and proves Amanda's writing is getting better with each story she pens. Relz Reviews
Available in paperback, ebook, and large print
Want to Know More?
Longing for adventure, Priscilla Morton leaves Boston and heads for Texas, never dreaming that the adventure she seeks could have heartbreaking consequences. Although attracteed to her, ranch foreman Zachary Webster knows Priscilla deserves a cultured East Coast gentleman, not a cowboy who's haunted by memories of his mistakes.

When necessity draws them together, Priscilla and Zach begin to forge a life filled with proimise. But then the past intrudes.

Book 2 of the Texas Dreams series, Scattered Petals weaves a tale of drama, love, and second chances as beautiful as the Hill Country itself.


Don't Miss These