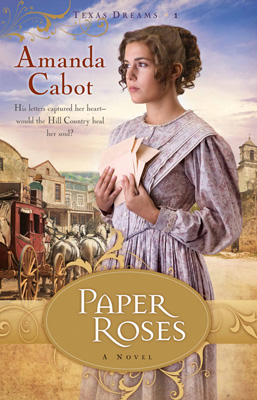 Texas Dreams #1
Publication Date: 2009
Revell Books
ISBN 978-08007-3324-7

Paper Roses
Finalist - 2010 Booksellers Best Award
Finalist - 2010 ACFW Carol Award

Her future stretched out like the clear Blue Texas sky. But a storm is coming.

The first Texas Dreams tale is an excellent western romance with an amateur sleuth whodunit investigation serving as a minor but powerful support. Fans will enjoy this fine pre-Civil War Hill Country historical. Genre Go Round Reviews
Available in paperback, ebook, audiobook, and large print
Want to Know More?
Leaving the past behind in Philadelphia, mail-order bride Sarah Dobbs arrives in San Antonio ready to greet her groom - a man she has never met but whose letters, her paper roses, have won her heart from afar. But there is a problem - Austin Canfield is dead, and Sarah cannot go back East.

As Sarah tries to reconcile herself to a future that is drastically changed, Austin's brother Clay wants nothing more than to shake the Texas dust from his boots, but first he must find his brother's killer. And then there's Sarah.

Something is blooming out in the vast Texas landscape that neither Clay nor Sarah is ready to admit, and the promise of redemption blows like a gentle breeze through the prairie grasses.

Book 1 of the Texas Dreams series, Paper Roses will sweep you away with a tale of love, loss, and tantalizing possibilities.
Don't Miss These