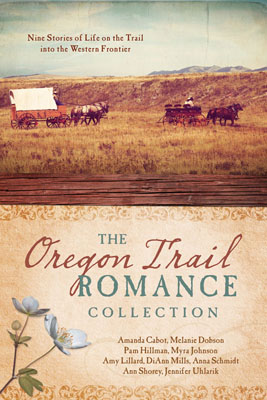 Novella Collection
Publication Date: 2015
Barbour Books
ISBN 978-1-6305-8853-3

The Oregon Trail Romance Collection
Dreams are challenged and romance is born on the journey west

ECPA Bestseller

Risking all their hopes and dreams on promises of fertile land in the Northwest, thousands set off on the Oregon trail in the mid-1800s. Despite the majestic landscape and daily opportunities for fireside chats, the trail was hardly the place these migrants expected to find romance. In these nine novellas, travelers on the wagon trains experience all the challenges and dangers of the trail.
Available in paperback and ebook
Want to Know More?
Nine romantic adventures take readers along for a ride on the Oregon Trail where daily challenges force travelers to evaluate the things that are most precious to them -- including love. Enjoy the trip through a fascinating part of history through the eyes of remarkably strong characters who stop at famous landmarks along the way. Watch as their faith is strengthened and as love is born despite unique circumstances. Discover where the journey ends for each of nine couples.

As someone who's always been fascinated by the pioneers and their journeys west, I'm delighted to be part of this collection. Here's a sneak peek into my story, The Sagebrush Bride.

If there's one thing Avice Longcope doesn't need, it's the husband her uncle has chosen for her. Still mourning her parents' death of cholera along the trail, she wants nothing more than to find peace. What she finds when the wagon train reaches Fort Laramie is a screaming baby and a father who's beside himself trying to care for his son while he runs the post store. And so Avice and Raleigh strike a bargain, never expecting to get far more than they bargained for.