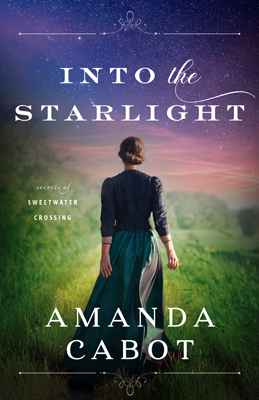 Secrets of Sweetwater Crossing #3
Publication Date: July 2024
Revell Books
ISBN 978-08007-4066-5

Into the Starlight
Coming July 16, 2024
The dramatic conclusion to Cabot's Secrets of Sweetwater Crossing series answers the final question: what happened to Clive Finley?


Preorder Now
Want to Know More?
After more than a year in Europe, Joanna Vaughn returns to Sweetwater Crossing, her dreams of becoming a concert pianist shattered. As if that weren't enough, her husband, whom she married after a whirlwind courtship, has died. The only thing sustaining her on the journey back to Texas was the thought of her childhood home. But to Joanna's dismay, she's changed so much that the place she once loved no longer feels like home.

After his fiancee married his partner and both blamed him for a patient's death, Dr. Burke Finley believes it's time for a change. A quick trip with his almost-aunt toSweetwater Crossing turns into an extended stay to discover what happened to his uncle and her would-be husband. But the beautiful and musical Joanna makes it more than bearable.

As the two join forces to help their mutual friend, there is no denying the attraction felt on both sides. But ghosts from the past are coming to call - and threatening to destroy any chance at happily-ever-after.

Get swept away by this emotional tale of family, friendship, and the kind of love that overcomes every obstacle.