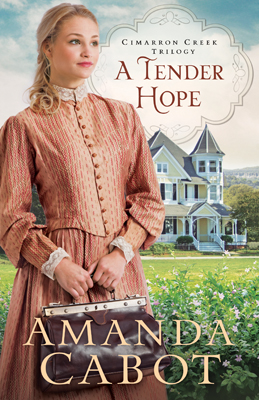 Cimarron Creek #3
Publication Date: March 2019
Revell Books
ISBN 978-0800727581

A Tender Hope
Woman's World Book Club Selection

Filled with complex emotion and beautiful prose. A heartfelt saga of loss and love. Woman's World

A Tender Hope is an extraordinary and deftly crafted story of loss, betrayal, and love in the majestic Texas Hill Country.
Midwest Book Reviews

Cabot concludes her Cimarron Creek trilogy with a lovely tale that brings the series' threads together. Publishers Weekly


Available in paperback, ebook, audiobook, large print, and hardcover
Want to Know More?
As far as Thea Michener is concerned, it's time for a change. Her husband murdered and her much-anticipated baby stillborn, there is nothing left for her in Ladreville. Having accepted a position as Cimarron Creek's midwife, she has no intention of remarrying and trying for another child. So when a handsome Texas Ranger appears on her doorstep with an abandoned baby, Thea isn't sure her heart can take it.

Ranger Jackson Guthrie isn't concerned only with the baby's welfare. He's been looking for Thea, convinced that her late husband was part of the gang that killed his brother. But it soon becomes clear that the situation is far more complicated than he anticipated -- and that he'll need Thea's help if he's ever to find the justice he seeks.

Amanda Cabot invites readers back to Cimarron Creek for a tender story of loss, betrayal, and love in the majestic Texas Hill Country.
Don't Miss These