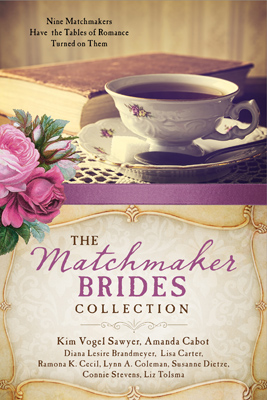 Barbour Books
ISBN 978-1634099547

The Matchmaker Brides Collection -- Available Now

Meet nine women of the late 1800s who have found themselves in the role of matchmaker. They think they have mastered the art of recognizing romantic potential in others, but when it comes to their own lives they have been unlucky in love. In small communities from Tennessee to Colorado, Wyoming to Indiana, love unexpectedly enters the women's lives with men they never imagined marrying. But what will it take to get these ladies to say "I do"?

This novella collection is very special to me, because it was my idea. I enjoyed working with the other eight authors who were part of The Rails to Love Romance Collection so much that I suggested we write another collection together, this one featuring matchmakers. Everyone agreed, and so the collection came to be.

I also enjoyed the opportunity to set another story in Cheyenne and to give Esther and Jeremy, the main characters from The Christmas Star Bride, roles in this one. It's been so much fun, watching their story unfold at the same time that they help other couples find their own happily-ever-after. I hope you've enjoyed the journey as much as I have.

Here's a sneak peek into my story, The Unmatched Bride. It's the story of Rob and Deborah, two people who are sure marriage is not for them.

When a confirmed spinster matchmaker accepts an unusual assignment and helps a wealthy widower choose the right mate for his daughter, more than one couple finds true love.